Telephone: Showroom 01686 623535 or Mobile 07802 311155
Yamaha
pianos
Yamaha have been building high quality pianos since 1900. They boast a range of pianos from Grands worthy of any concert hall to uprights for pianists of all levels.
Yamaha also offer a "Silent Piano" option which shifts the action of the keys from the hammers to a digital reproduction, allowing the player to practise without disturbing those around them. These instruments have the unique Gran-Touch which incorporates a genuine grand piano action into a digital piano compact enough to fit into the smallest space whilst retaining the responsiveness of the real thing.
Yamaha C Series
Yamaha C series Grand Pianos have long been a preferred choice of knowledgeable pianists and set the standards by which other grands are measured.
Todays C series, recently redesigned to incorporate a host of new refinements, offers a balanced selection of seven outstanding instruments all at a single high standard of professional performance.
Shown here in polished ebony finish. Contact Stuart for details of other finishes.
88 keys and 3 pedals (centre pedal sostenuto)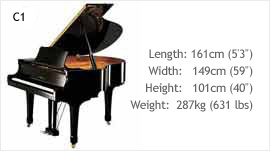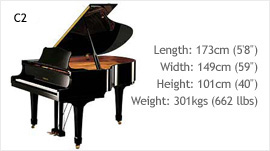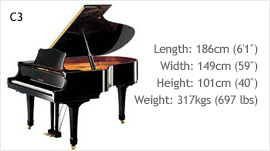 Yamaha C Series
The exclusive, top-of-the-line U series sets a whole new standard for elegance and excellence, incorporating numerous refinements as well as concepts adapted from yamaha grand pianos.