Telephone: Showroom 01686 623535 or Mobile 07802 311155
Schimmel
pianos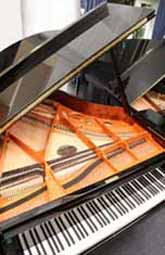 Schimmel pianos represent four generations of a family-owned business. They combine tried and tested handcrafting techniques with Schimmels state-of -the-art CAPE software for optimizing the cast iron plate to produce a piano with an unmistakable sound quality and aesthetic beauty.
Schimmels range of grands have a full rich sound and fast responsive touch. They come in three lengths (8'4", 7' and 6'3") to suit all your concert needs.
Schimmels twin -tone pianos offer the option to fit Yamaha's Silent Piano sound-muting system allowing the use of headphones when practising.

Schimmel produce three range of pianos; Vogel, Classic and Konzert, to suit all pianistic levels and budgets.
Vogel grands and uprights offer a responsive touch along with a pleasing tone.
They feature a Schimmel keyboard and action assembly and excellent mountain-grown spruce soundboard.
Hammer heads and strings are of German origin with solid wood throughout the back assembly. They come in a fine polyester finish.
Stuart is an authorised Schimmel dealer.
For those looking for something out of the ordinary take a look at the Transparent, Art and Pegasus Pianos!