Telephone: Showroom 01686 623535 or Mobile 07802 311155
Piano
restoration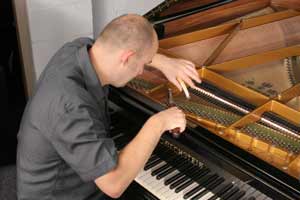 A complete restoration and repolishing service is offered at the fully equipped Mid-Wales workshop.
All secondhand piano's are carefully reconditioned before leaving the premises to ensure optimum playing performance whatever your level of musicianship.
Stuart will be pleased to evaluate your piano and restore it to first class condition.
To arrange an evaluation or tuning contact Stuart.
Caring for your piano
New pianos generally have a lacquer finish that needs no polish just a wipe with a damp cloth then careful drying to ensure a high sheen.
Older pianos were often French Polished and need a polish reviver applied then buffing with a soft cloth.
Your piano is a valuable item. Keep it clean and avoid standing drinks or flowers on it - liquid damage can be serious and costly to repair.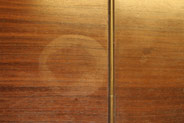 Cup Stain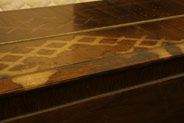 Water damage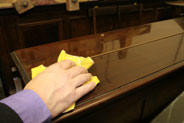 Restored