Telephone: Showroom 01686 623535 or Mobile 07802 311155
Piano
tuning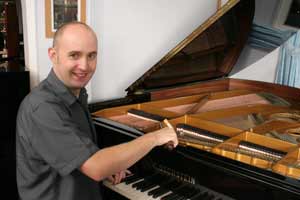 To keep your piano in perfect working order it needs careful, regular tuning. Stuart holds the City and Guilds 1 - 11 W.S.M.I.M.R DIP from the Welsh School of Musical Instrument Making and Repair so you can be sure that you piano is in safe hands.
Not content until your piano is the best it can be, Stuart offers a friendly, reliable service at very competitive prices.
To arrange an evaluation or tuning contact Stuart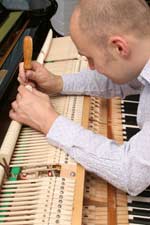 Frequently Asked Questions about Tuning and Maintenance
How often will my piano need tuning?
The stability of the area that the piano is kept in will probably determine how often tuning is required, but the 'average' piano will need tuning every six months or so to keep it at concert pitch.
Why does the piano action need maintenance?
Like other instruments, the moving parts of the piano need to be serviced form time to time. The quality of the instrument and the amount it is used will all determine how often this should be done. Even the pedals will need periodical adjustment.
Where is the best place to keep my piano?
Pianos do not like changes in temperature or humidity so try to keep them away from radiators and windows. Locate your instrument in a room that keeps a constant 18-21 degrees celsius. A dehumidifier can stabilise the room further ensuring the long life of your instrument.