Telephone: Showroom 01686 623535 or Mobile 07802 311155
Digital
pianos
Stuart has a range of digital pianos in the Newtown showrooms for you to try out.
Digital pianos can take many forms and fulfil many functions, however they can never emulate successfully a real acoustic instrument.
Here are some things to consider before you decide to purchase. For further advice contact Stuart or visit the showroom.
Advantages of digitals
Most allow silent practise through headphones
Most are smaller and lighter than a piano making them more portable
Most include other keyboard sounds, eg harpsichord
Many include other instrument sounds, eg strings
Some have built in rhythm patterns to help timekeeping
Some have midi interfaces to allow connection to computers etc for recording purposes
Never need tuning
Disadvantages of digitals
Cannot duplicate the tone and touch of an acoustic piano
An acoustic piano will hold its value and can last over 100 years whilst a digital will probably be obsolete after 5
It is impossible to practise technique and dynamic performance on anything but the real thing
Many teachers will not teach even beginners with a digital piano and an acoustic is essential for practise at the higher levels
Kawai DP1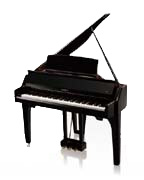 88 wooden keys with AWA Grand Pro II action
36+12 user sounds and 27 effects
Activating Touch Control System and 6.4" VGA display
100 songs, 2 tracks recorder and MP3 audio player
Midi and USB connections as well as line in/out, and headphones connection
Temperaments, Stretch tuning and touch curve features
Metronome and transpose function
Speakers: 2cm (done) x 4, 5cm x 2, 12cm x 3, 16cm x 1
Output power: front 40w*2, rear 20*2
146(W) x 100 (D) x 93 (H) cm
Kawai CA91 Digital Piano

Harmonic Imaging Sound Technology
Awa PRO Wooden Key, Graded Hammer Action
80 sounds
Max polyphony 192
176 Concert Magic Songs
2-Track105 song recorder (90000 notes)
16 x 2 Character LCD display
6 speaker sound system
Kawai CN31 Digital Piano

88 weighted key Graded Hammer Action AHA IV with AR technology
36 sounds
96 voice polyphony
Built in Tutorial "Alfred's Basic Levels 1A and 1B"
40 watt sound system
Kawai CL25 Digital Piano

88 weighted keys with advanced hammer action IV
8 sounds with max 72 polyphony
40 Concert Majic Songs
2 x headphone sockets
2 x (12x8) cm speakers output power 7w x 2s
Damper pedal
Midi in/out connections
Kawai Mp5 Digital Piano

256 instrument sounds
New Advanced Hammer Action IV with AR technology
Midi and USB connectivity
Max polyphony 192